k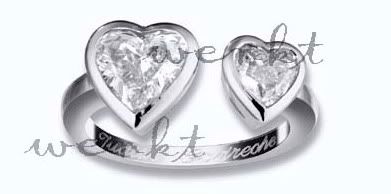 Wedding of the year 2006 Ring. took the pic from my fren blog who is studying in france.
it's announced inside the france's magazine - Public, a weekly entertainment mag.
It's says that the ring was bought by a malaysian. and the name of that person - ?. hehe
im sure, it's Datuk Khalid. Siti's going-to-be hubby soon. but siti, could u just marry Fazley.
:)
Price- 99,999.99 euros (RM464,012.13)
ring name - Bague Coeur Toi et Moi Diamants (Cincin Pertama Hati Kamu dan Saya/My First weight: 1.62karat
well, my week start like pig.sunday, monday,tuesday & wednesday, i didnt sleep at all. was doing the class layouts and it's awesome. :)
well, i've been talking to nizam in school, not really but ok ok la. and talk to tze siang too, someone's babyboi. :) not mine. hahaha i've discover her name - stefanie lee. oww.so cute.
hehe :) i've been ponteng kelas for two days straight just to finish my art project and finally it finish haha and im SO Happpy. don't need to care anymore abt it.
tuition today was fun la. hehe. =)
thinking abt prom tux. argh. boring.
NEXT! hahaa. okay, gotta study and work on my homework.
Thank U.bye tcare!